We know what you're thinking. You want a building that looks big and strong that isn't an eyesore to look at every time you drive by on the way to work. While the aesthetics of any structurally sound building should never outweigh the durability of the continuous arch curve, appearances do matter. You want your building to not only maximize storage, but to add a little curb appeal to existing property. Deciding which arch building shape is best for you is the first major design element to tackle. Our buildings come in three distinct models: the utilitarian A-model, the spacious curved-top S, and the head-turning Q-model, which offers maximum storage capacity. Which model is right for your property and storage needs? There's no wrong answer, really. Each model has unique built-in advantages and offers near endless customization options. Our talented engineers can design buildings up to 100′ wide and as long as you need!
The A-Model Building Shape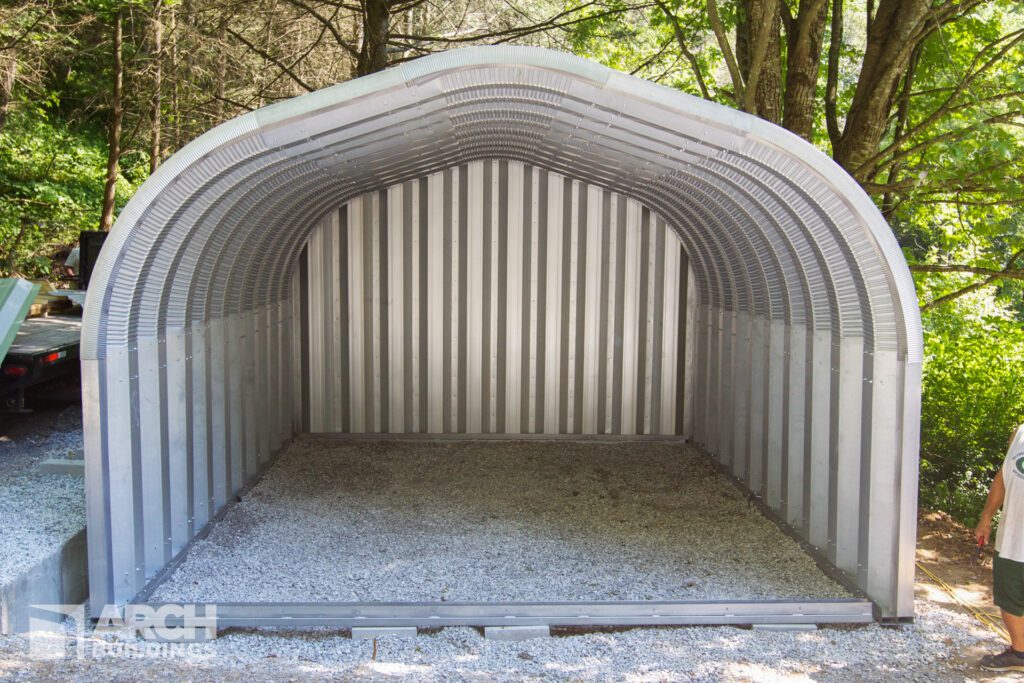 Perhaps our most popular model, the A-model arch building is the standard residential go-to design. Unlike the curved S and Q models, the A model building is the only configuration with a peaked roof. True to its name, this model most closely resembles classic A-frame construction and complements any residence as a garage for your car, boat or tools. One of our top sellers, the A25′ x 30′ x 12′ arch building frees up in-house storage and fits nicely with the profile of any home. With a few exceptions, the A-model is manufactured from standard 22 gauge steel with open end construction that allows for facade customization. A 20 or 18 gauge upgrade is necessary for snowier climates that also require heavy wind loads. While this terminology might sound confusing, you can rest assure knowing our knowledgeable building advisors can point you in the right direction. Just give us your zip code, and we can advise which gauge metal is best for withstanding the climate of your community.
Need More Storage Space? The S-Model Building Shape Might Be Your Best Bet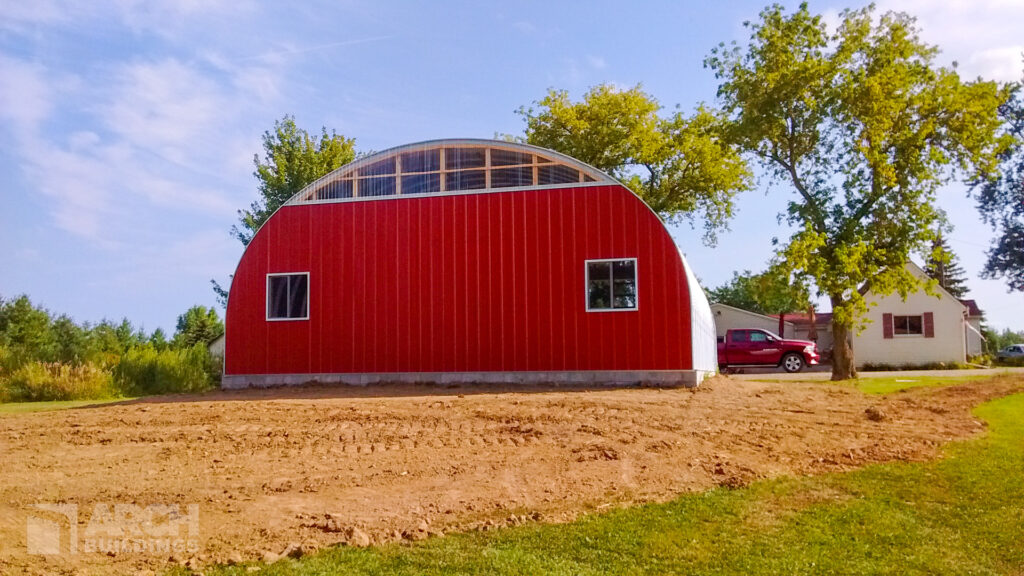 Known as the sportsman, the S model building shape is great for steel covered athletic facilities or those looking for a little more room to grow. Commercial enterprises such as automotive shops or heavy duty construction business will relish in the extra space up top to move larger vehicles and equipment in and out with ease. Like the A model, the S-Arch also has straight walls, so you can maintain your building's profile, ensuring it can easily fit into tighter spaces without sacrificing space. The one key difference between the models is, of course, the continuous curved top in place of the peaked A arch model. If you're looking for something that defines turnkey, the S model immediately alleviates any storage dilemma without you having to take out a second mortgage to finance your next building project.
Our S models have been used for everything from sandblasting facilities, batting cages, shipyards, manufacturing facilities and even agricultural barns. The cavernous 20′ x 30′ x 16′ model is a fan favorite. This model comes in under $10,000, so you won't break the bank with this crucial storage investment. If you're looking to stretch your dollar a little further, the S model is that nice and cozy middle bracket. It has all the structural benefits of the Q and A, without the size limitations of being too small or too big. It's just right. Comprised of Galvalume steel, the S model comes with a 35-year backed warranty. All of our building kits come with all necessary bolts, fasteners and blueprints. All you need are a few simple hand tools and an afternoon to spare to get started.
The Heavy Duty Q-Model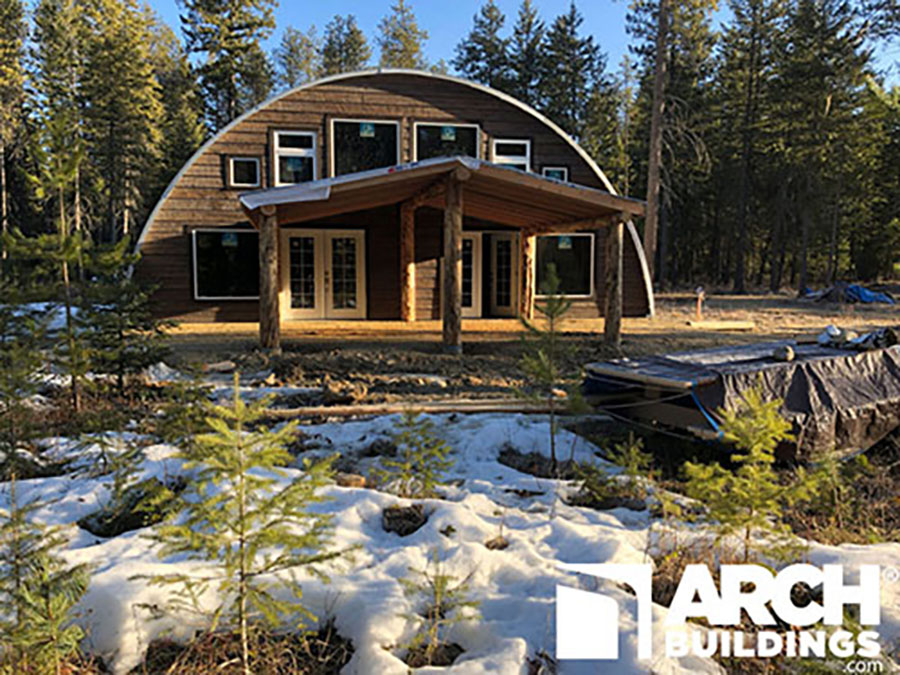 If you've made it this far in our crash course on arch buildings, then you're obviously looking for something a little bigger that breaks the mold of traditional construction. The sprawling Q-model is the quintessential arch building. Unlike the S or A models, this model is one enormous curve that doesn't brake for straight walls or excuses. It gets the job done, and just might be the best shape building you've been looking for. Known as "The Farmer," this building backs up its reputation as a structure that works until the cows come home. It's the ideal metal building for livestock, feed, machinery, equipment and even marine storage. Think of all that extra space you will gain at the bottom of the arch that doesn't come standard with straight-wall construction. Living up to the hype, the Q model goes up to 100′ wide and as long as a semi! Some of our more creative customers have even used the Q model as the floorplan for their prefabricated home that costs a fraction of traditional stick built structures.
Easy DIY Assembly
There's no wrong answer when picking the suitable arch model for your next building project. Each metal building is engineered for turnkey DIY assembly and installation. All you need are a few hand tools and a couple of willing friends!